We believe that in this age of materialism it becomes harder and harder to find a unique project.
At William Stone all our handmade items are unique.  The primary focus of the brand is to make sure every item includes at least one material that has been upcycled or repurposed.
We source fabric, buttons, jewellery and board game pieces from vintage and thrift stores, while still making sure that our products are of the highest quality.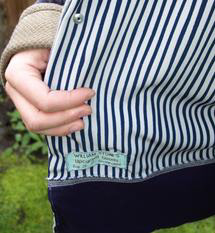 Our mission is to help minimise landfill and to reduce the consumption of energy and raw materials by repurposing fabrics and other items into unique (and often one-off) items by hand and/or with minimal energy consumption.

Although William Stone is not a registered charity we do run and take part in various charity and community projects.
William Stone Upcycled Goods was founded in 2013. Our logo is called 'Willis' and he is a hipster who loves wearing second hand and salvaged clothing. 

He was designed by Jeffrey Louis Salkilld and you can follow Jeffrey on Pinterest so see where he gets some of his awesome ideas. @Jeffro292